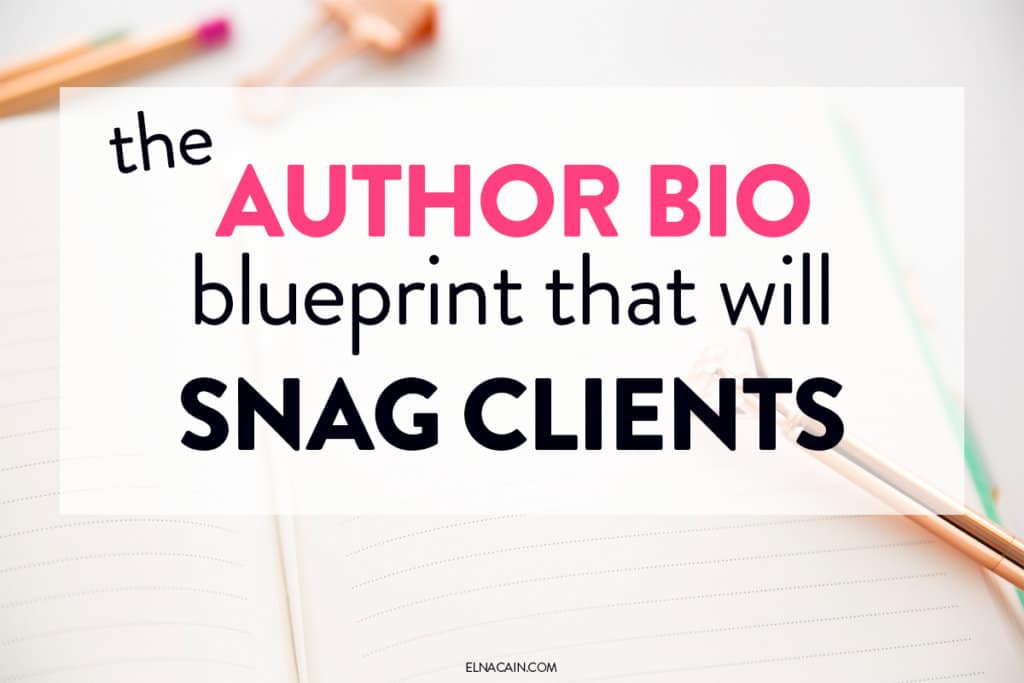 You slave away at writing the perfect guest post for a very popular website. You can't believe they accepted your pitch, but you push your excitement aside and get busy writing.
When the last sentence is done, you press save and take a deep breath, thinking you are all done – but you're not.
Guest posting is a great way to market yourself as a freelance writer. You get to write in your niche and build up your portfolio with relevant work you want to continue doing.
But, how do you maximize your chance of getting a lot of people, specifically potential clients, to view your guest posts? It isn't enough to share it across social media or even write on your blog telling your audience you have  new guest post.
No, the best way to attract potential clients is with your author bio (along with your wickedly awesome guest post).
The last piece of your perfect guest post is an author byline that will wow prospects and spur them to contact you.
How do you write an author bio that entices clients? Many freelance writers don't give their byline much thought – you make sure to mention your name, services and website and you're good to go.
Well, if you're new to freelance writing and you want to use your byline as a marketing tool for more business, there are certain elements that it needs to have in order to generate that outcome.
I call this my author bio blueprint and I'm going to share it with you.
An Author Bio That Will Snag Clients and Make You More Money
One of the reasons I even guest post is to show off that one piece of hot real estate – my author byline. It's a chance to broadcast my name and my services out to hundreds, if not thousands of people online.
Some writers never give away their writing for free. But, what they often forget is it pays to write for free.
How can giving away your work pay off?
Your content will reach a bigger and wider audience than your little ol' blog will
You will hone your writing skills by writing in what you excel at (i.e. your niche topics)
Your guest posts will help you build your portfolio if you don't have any client work yet. Often, guest posts are more versatile than some of your client work.
Your writing will be seen by potential clients interested in hiring a freelance writer
You can even land a freelance writing job by guest posting!
Your byline is also a great way to expand your brand messaging. Your personal brand as a freelance writer is what sets you apart from other freelance writers. What is it about YOU, that is different from all the other freelance writers online?
And in order for your author bio to be a part of your personal brand, it has to be memorable.
There are 6 parts to my author bio blueprint. Now, you don't need all six parts to snag a client, but it sure helps in making a darn good bio.
And before we get into the nitty gritty of this post, if you don't have time to read it, I've streamlined the info all in my YouTube video! I would love it if you checked it out and to !
1. It Needs to Be Specific
All too often I will come across a guest post from another writer and after reading their author bio, have no clue if they are even a freelance writer or if they are looking for freelance writing work.
In order to get the most out of your bio, it needs to be specific. I mean you're sending out your hard earned work in hopes of getting social shares, Likes and writing work. Why not make sure it's attributed with all the right information?
So, what specific information does your author byline need to convey?
That you're a freelance writer for hire (or freelance blogger, copywriter etc…)
That you have specializations (blog posts, articles, site content etc…)
That you are knowledgeable in the following niches (digital marketing, health, parenting etc…)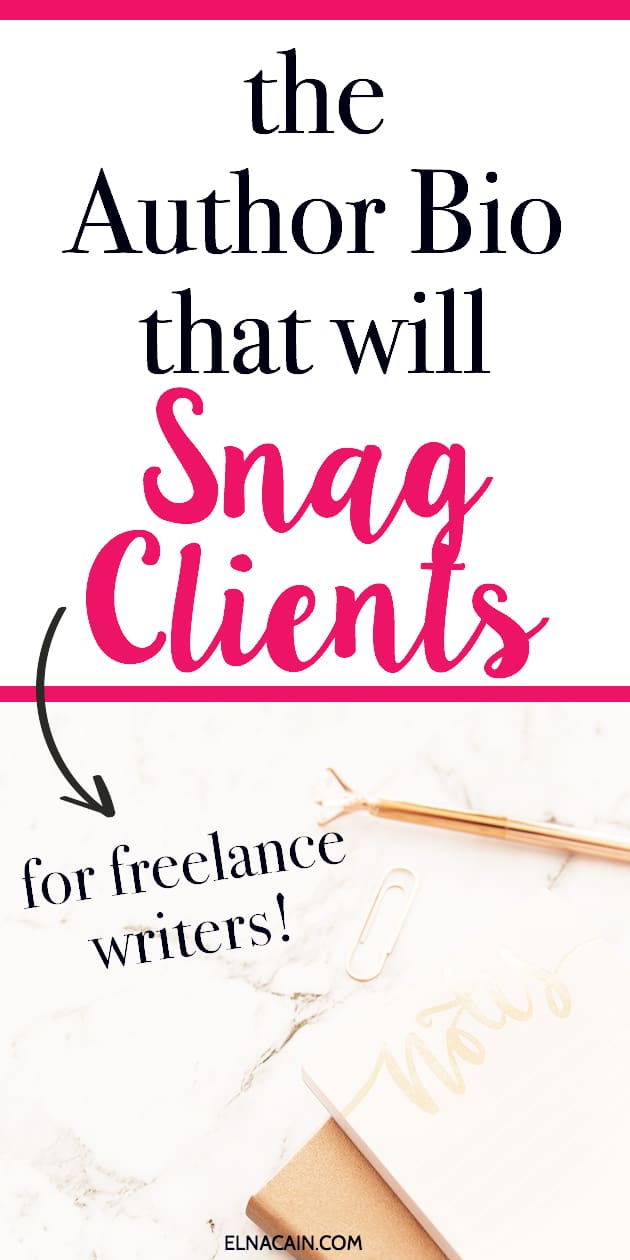 2. It Links to Your Website
What good is a byline if it doesn't link back to your website or Hire Me page? The sole purpose is to bring new readers and prospective clients back to your site so make sure you make it easy for them by providing a link.
What if you don't have a writer website? While it is important to have a website for your budding freelance writing career, you could get away with your social media profiles.
Now, if you're business isn't on social media, you shouldn't be guest posting! Before you start to pitch your ideas to guest blogs, build your writer website and fill out some social media profiles for your business.
This will help you get established as a freelance writer and make you more credible once you begin to guest post.
3. It Highlights Your Wins
Not all author bylines will have this element, but it can help you distinguish yourself from other freelance writers.
Here are some examples of author bios that show credible and noteworthy accomplishments:
4. It Provides Incentives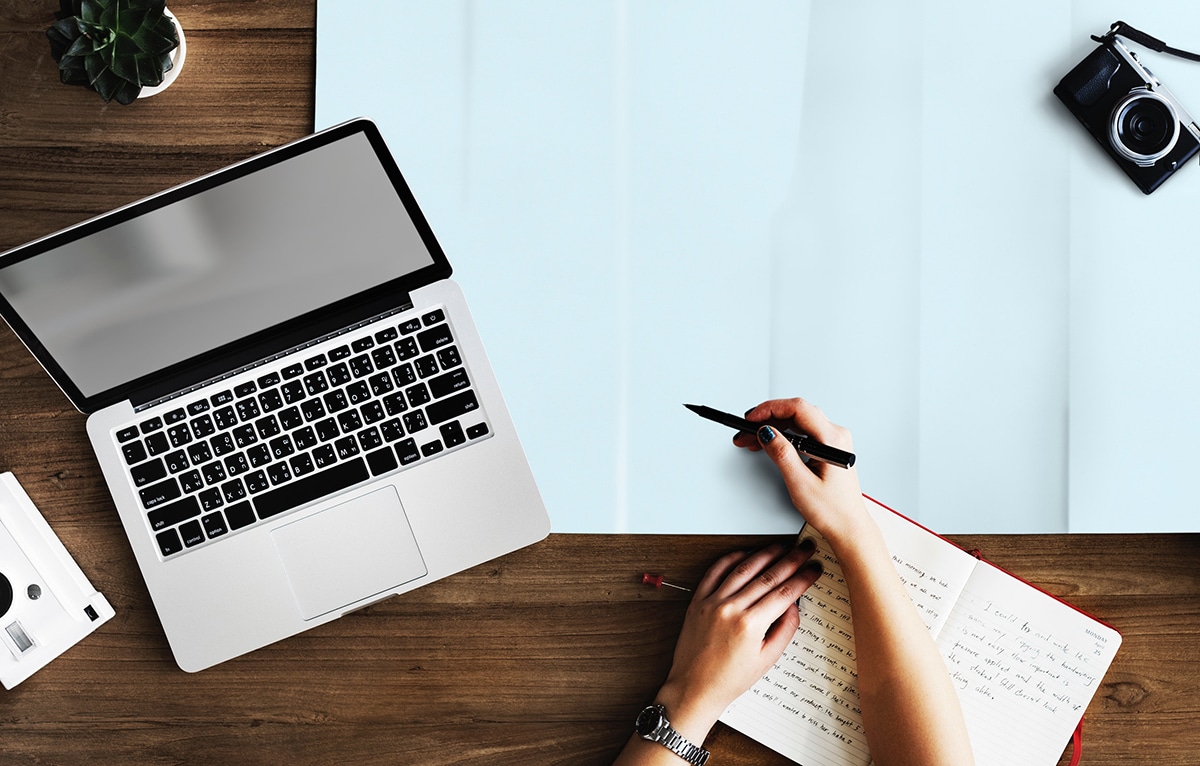 Besides linking to your website, it's a good idea to link to products you have that would benefit a reader or potential client.
While an author byline can attract future clients, it will also attract new readers. They will be more willing to become a regular reader if there is a free incentive.
For my author byline I try to include a link to my free email course, Get Paid to Write Online.
The point is to get readers or potential clients back to your website to linger and get to know you better.
5. It's Unique to the Guest Post Site
If you're new to freelance writing, you may think you only have to write one author bio for all your guest posts.
I was under the same impression when I first started guest posting. It wasn't until I saw other popular freelance writers' author bios on different sites that I realized theirs were tailored and mine wasn't.
From that point on, I started to tailor my author bio in order to highlight my expertise in what I was guest posting on.
So, let's take a look at some of my author bios and see how they evolved over time:
How did I tailor my author bios? I made sure to mention my expertise that was related to my guest post.
Over time, I changed my specialties to include not only what I'm guest posting about, but what kind of writing work I want.
Currently my author byline might include: digital marketing, social media, and health.
6. It Has Personality
A great way to make your author bio pop is to include a personable tidbit. Whether it's you're a young journalist or you're a mother of twins, injecting a bit of personality can help you land a client.
Not every author bio I have mentions that I'm a mother of twins. It depends on the website and if it truly is relevant to helping me land a gig.
There are other freelance writers, though, that do a great job at showing who they are. Let's take a look at some:
Depending on the nature of your guest post, you can be as liberal as you want with showing your personality.
For me, it's having a nice balance between showing prospective clients I mean business, but that I'm also a mom trying to take care of my little monkeys!
Are You Ready to Snag A Few Clients With Your Author Bio?
There you have it! My awesome blueprint for the best author bio. As I mentioned before, you don't have to use every element at one time. I certainly don't – I just found using a few at a time makes for an easy to read bio.
I'm probably sure you're wondering if my bios have snagged clients? They have! I had two clients that I know for a fact came to me from my author bio on my guest posts.
So, tell me, are you happy with your author bio or do you think you need a new blueprint? Let me know in the comments!
Click the Image Below and Land Your First Freelance Writing Client as a New Writer