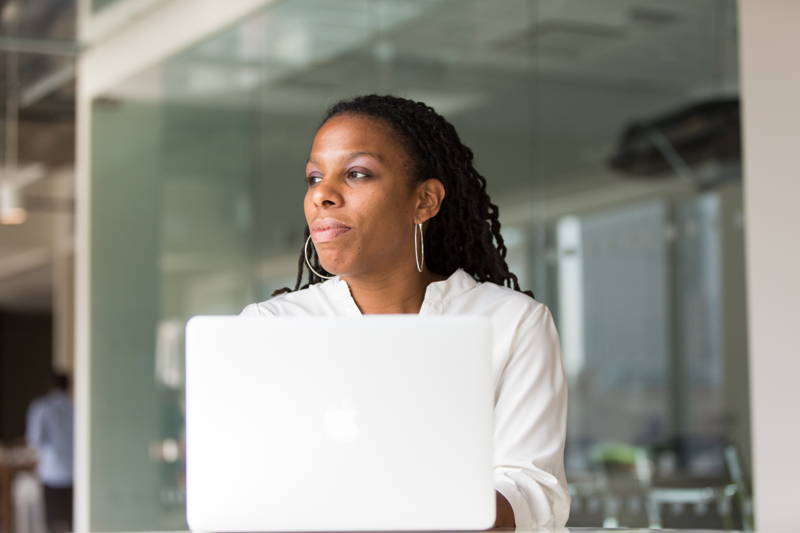 Image courtesy of Christina Wocintechchat
More than five percent of Americans will experience a short-term disability this year. Yet 51 million Americans are without short-term disability insurance.
As a woman in the workforce, whether for a large corporation or as a self-employed contractor or entrepreneur, are you protected from a financial disaster should you be unable to work for several weeks or even months?
Read on to learn about short-term disability, what it covers, and how you can secure coverage that meets your unique needs.
What is short-term disability insurance?
In its simplest definition, short-term disability insurance is designed to supplement part or all of your income should you find yourself temporarily unable to work for due to an injury or illness. But as with most types of insurance, there's plenty of fine print to consider.
Every policy is unique but the following are examples of injuries/illnesses/conditions a short-term disability, or STD for short, policy may cover:
It's important to note that STD insurance does not cover preexisting conditions or allow time off to take care of a sick family member (though you may be eligible for unpaid time off under FMLA). While many STD claims are not planned, you should always make sure your policy covers more likely scenarios. For example, if you plan on starting a family in the near future, making sure your STD policy covers time off after childbirth is crucial.
Who needs STD insurance?
Put simply, every American worker should have short-term insurance. There are four ways you can obtain STD insurance.
Through your employer
Some companies automatically offer their eligible workers short-term disability benefits. This is typically part of an overall benefits package and employees are not responsible for premiums.
As an optional benefit
Some employers may offer short-term disability benefits as an optional benefit to eligible employees. The employer may pay for a portion of the premium but employees are often responsible for a percentage. In this scenario, benefits must be elected during an open enrollment period.
State coverage
Some states require short-term disability coverage for all employees. Currently, only five states have state-mandated insurance requirements, including Hawaii, New York, Rhode Island, New Jersey, and California. Puerto Rico also has similar mandatory requirements.
Private policy
If an employer doesn't offer STD insurance or the offered policy doesn't meet an employee's needs, a policy can be purchased from a commercial vendor. This is also the most common option for the self-employed.
Is STD insurance expensive?
This will depend on how coverage is obtained. For example, if an employee is covered under employer-provided STD insurance, coverage won't cost them anything. 
But if you're paying for your own coverage, you can expect to come across several different price points. In most scenarios, you can expect to pay between one and three percent of your annual gross income. For example, if you make $80,000 as a self-employed web designer, you can expect to pay between $800 and $2,400 a year for STD coverage.
I'm self-employed and want to start a family. What are my STD insurance options?
If you're a small business owner, contractor, or freelancer, don't count yourself out of STD insurance just yet. By keeping the following tips in mind, you can secure STD insurance that covers the basics without breaking the bank.
Short-term disability insurance FAQs
STD insurance can be overwhelming, especially if you're self-employed. Here's a summary of everything you need to know about coverage.
Q: Should I consider STD insurance if I'm self-employed?
When you're self-employed, all the work falls back on you. So if you're unable to work, essentially all the wheels of your business stop moving. STD insurance can provide you with peace of mind and a bit of financial security while you focus on getting better.
Q: Will any type of pregnancy claim be covered under a private STD policy? 
This is the most important question pregnant self-employed women ask when it comes to STD insurance. And the answer is an unsettling "it depends". Very few private policies cover every potential pregnancy scenario, such as time off for bed rest or additional time off for a complicated delivery. Depending on your industry and how much you make, it could be difficult to find a policy that covers pregnancy at all. Make sure you've read all the fine print before agreeing to a policy to prevent surprises during a claim. 
Q: What if I can't find an STD policy that fits my budget and requirements?
In this rare situation, financial experts often recommend the same financial safety net of a savings worth at least three to six months salary. If you find yourself pregnant and without adequate savings or an STD policy, explore your financial options as soon as possible if you're worried about paying the bills while taking time off to heal and bond with your newborn.
Is short-term disability worth it?
In most scenarios, STD insurance is absolutely worth the investment (especially if your employer is sponsoring some or all of the premium). But even if you're paying a price for a private policy, the peace of mind and financial security an STD insurance policy can offer is priceless. 
As a female in the workforce, it's important to know that a quarter of all STD policy claims are due to pregnancy. And with nearly half of American pregnancies being unplanned, the coverage may be something you unintentionally need one day. 
Whether you experience a planned or unplanned short-term disability event, you'll never regret the coverage. But you could regret putting off purchasing a policy, so start doing your homework today.