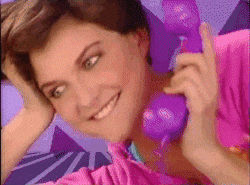 You got a phone interview—congratulations! You're one step closer to landing your dream job. (Or something pretty darn close.)
Without the added pressure of "dressing for success," it might feel like this stage of the interview process is just a formality. But you heard it from us first: It's not.
The phone interview is how companies divide the candidate pool into the haves and the have-nots. It's an opportunity for HR representatives to weed out unlikely applicants and for hiring managers to get a feel for whether your skills and personality fit the company.
Here's how to stand out from the pack before, during, and after your phone interview.
Before the Interview
1. Clarify the logistics
Did your prospective employer ghost you, or did you forget that, somewhere in that long email thread, you said you'd call them and not the other way around? There's an easy way to keep confusion over logistics from souring your interview prospects: Send an email the day before clarifying who is doing what.
Hi NAME,
I just wanted to make sure everything is all set for our interview tomorrow. My calendar says to expect your call at TIME (TIME ZONE). You can reach me at 919.555.8675.
I'm excited to learn more about your company and how we could best work together. Please let me know if you need anything ahead of our call.
Thanks so much,
Jenny Jobsearcher
Remember, your future hiring manager is a human too and probably has a lot going on. It's not pushy or rude to politely make sure everyone is on the same page.
2. Take the interview seriously 
Just because you're doing a phone interview and not an in-person interview doesn't mean you can answer the call from the comfort of your California King. Treat the interview like you would any other: Eat breakfast, work out, and calm your nerves. Then get dressed and find a quiet place (with good cell signal) to do the interview where you won't be interrupted.
3. Prepare your interview materials
Obviously, you don't need a binder or portfolio of your work during a phone interview, but you should have a few things on hand to help you answer (and ask!) interview questions:
4. Practice interviewing with a friend
You might feel silly at first, but it's just as important to practice phone interviews as it is to practice ones that are face-to-face. Have a friend call and ask you questions. Practice both answering and listening. Here are a few sample questions to try:
During the phone interview
After the phone interview
Whew, you made it. Now you'll want to leave a good and lasting impression. Wait a day or so and send a short thank-you email after the phone interview referencing your call and saying you're interested in learning more about the company. In that email, be sure to include a link to your personal website or portfolio if you have one (a LinkedIn profile will also do)—this is a great opportunity to remind a prospective employer why you're a great fit for the job.
: